Fabrizio Rossi
I received a degree in electronic engineering, with marks 96/100, entitled: "Interferometria SAR: applicazione alla zona di Tor Vergata" from the University Tor Vergata of Rome in 2001.
In May 2001, I collaborated with University Tor Vergata to test interferometric software of Gamma Remote Sensing.
In November 2001, I collaborated with European Space Agency - ESRIN, (Rome, Frascati) on the DATA GRID project: "Middleware for processing data on remote computers on Linux Red-Hat 6.2 platforms", involving development of IDL routines for interface with DATAGRID and AFS ENEA network and their testing in processing profiles of ozone from GOME data.
My present research interests include:

- Retrieval of atmospheric parameters from remote sensing instruments, and in particular the retrieval of ozone profiles from radiance measurements of GOME, the nadir-viewing spectrometer on the European satellite ERS-2.
- Neural Networks to retrieve seismic source parameters by SAR INTERFEROMETRY
- SAR Interoferometry, in particular DEM generation, and earthquake research.
I am currently pursuing a Ph.D in Geoinformazione and working in European Space Agency - ESRIN, Frascati as a System Manager.
Relevant Research Experience: Publications
F. del Frate, F.Rossi, G. Schiavon, U.M.A. Schiavoni Schiavoni, D. Solimini, "Observations of urban changes through a neural network fed by multitemporal SAR data ", Recent Advances in Quantitative Remote Sensing, Valencia, Spain, 2002.
A. Arturi, A. Minchella, F. Rossi, "Generazione di modelli digitali del terreno (DEM) mediante interferometria SAR: il DEM del vulcano laziale", Prima giornata di studio sulla Geoinformazione, Italy, Rome, April 2003.
Fabio Del Frate, M. F. Iapaolo, F. Rossi, S. Casadio, "A connectionist approach for atmospheric ozone profiling with satellite radiance measurements", Atti della fondazione Ronchi, Maggio 2003.
F. Del Frate, M.F. Iapaolo, F. Rossi, S.Casadio "Neural Networks Algorithms for the Retrieval of Ozone Vertical Profiles from Satellite Radiance Measurements", 2003 Tyrrhenian International Workshop on Remote Sensing, September 15-18, 2003, Elba Island.
F. Del Frate, F. Rossi , G. Schiavon and S. Stramondo "Neural Networks to Retrieve Tectonic Acticity Parameters by SAR Interferometry", Fringe 2003Workshop, December 1-5, 2003 Esa Esrin, Frascati (Rome)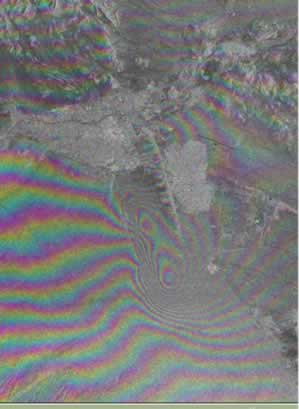 This image is a HIS (hue, intensity, saturation) representation of an differential interferogram computed from the ENVISAT ASAR pair 9693 (07 Jan 2004) – 9192 (3 Dec 2003), track 120, descending pass. Topography was corrected using the pre-seismic ASAR pair 9192 (3 Dec 2003) - 6687 (11 Jun 2003). Possible atmospheric artefacts of both interferograms are mixed-up. Despite approximate perpendicular baselines close to 500 meters, the 35-days coherence on this desert region is quite high and the interferometric fringes are well visible. This image was produced with the Gamma RS software. The fringes result from the combined effect of displacement, relief, atmosphere and orbital fringes, after a phase filtering.
For any information please visit the ESA EOPI web site on the following link:
http://eopi.esa.int/esa/esa?e=XDqHBqAAd27bl1sKmJe7lvCqaL9xpJS3hMfpsgOOfMdrCzJeffT2n82h0FpHW