News
ESRIN supports the Academic World
20 November 2007

It becomes more and more difficult for young students and scientists to enter the working world.

In this process ESRIN plays an important role through its cooperation with several Italian universities and in particular with Tor Vergata University of Rome, by hosting students at its premises in order to complete their academic education.
This is done following an agreement between ESA and Tor Vergata University first time signed year 2000 and renewed for another 5 years. The aim is to foster and strengthen reciprocal experience and knowledge in the field of space research.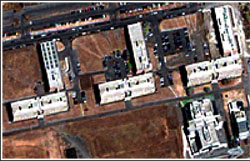 Satellite image of the Tor Vergata Engineering buildings
At any one time, up to 10 students from the nearby University can be found carrying out research at ESRIN. So far the students, from Tor Vergata's Department of Computer Science, Systems and Production (DISP), range from third-year students here for just a few months while they complete their theses, to PhD graduates who spend three years at ESRIN.
Since the agreement was signed, more than 20 students of telecommunications engineering, electronics engineering or environmental engineering have been hosted in the Earth Observation Programmes Directorate.. For the moment, most of the students are located in the GIS 'hut' behind Building F, where some of them have to share desks because of the lack of space.
Despite the cramped working conditions, the students are very grateful to be at ESRIN. "It is a fantastic opportunity because there is always something going on and something new to learn, plus we benefit from having access to ESRIN's facilities and data as well as the assistance of experts" says PhD student Marco Lavalle, who is carrying out research into the retrieval of bio-physical parameters from vegetated areas, using polarimetric interferometric SAR. Francesco Sarti (Scientific Coordinator of the Education and Training Activities in Earth Observation) is keen to stress that the Tor Vergata/ESA agreement helps ESRIN as well as the students. "ESRIN benefits from the presence of young people with plenty of ideas, good motivation and open minds. They work with the minimum amount of supervision and the scientific support they provide in EO is extremely useful."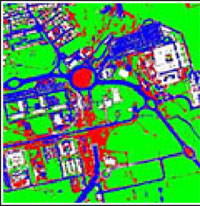 Neural Network classification
map of Tor Vergata Campus

To emphasise his point he relates how Riccardo Duca, a PhD student researching the use of CHRIS Proba hyperspectral and multi-angular images for land cover products generation, came in to work after the Asian tsunami in December 2004 to identify changes in the shape of India's remote Andaman Islands using ASAR data. "Thanks to his work, we were able to make a dataset available to the scientific community showing the changes the tsunami had made to the islands," says Francesco.
All the students have at least one tutor at Tor Vergata and one at ESRIN. Riccardo, for example, is supervised by Francesco Sarti at ESRIN and Fabio Del Frate, Assistant Professor in the PhD GeoInformation Programme of the DISP Department. Prof. Del Frate knows ESRIN well as in 1998/99 he was here as an Internal Fellow, under the tutorship of Luigi Fusco and Olivier Arino.
"From an educational point of view," says Prof. Del Frate, "the chance to interact with the technical, operative and international environment at ESA is a unique opportunity that the University is able to offer its students." Furthermore, this experience has proved to be very important to the preparation of spin-off activities.
Cooperation between Tor Vergata and ESRIN is not limited to hosting students carrying out research. ESRIN staff also support the creation of courses at the university and provide visiting lecturers. On the other hand, PhD students contribute a valuable technical support to training activities in Earth Observation at ESRIN.

For more information, please contact:
Francesco Sarti, Earth Observation Science Strategy, Coordination and Planning Office, EOP-SA, Ext. 80409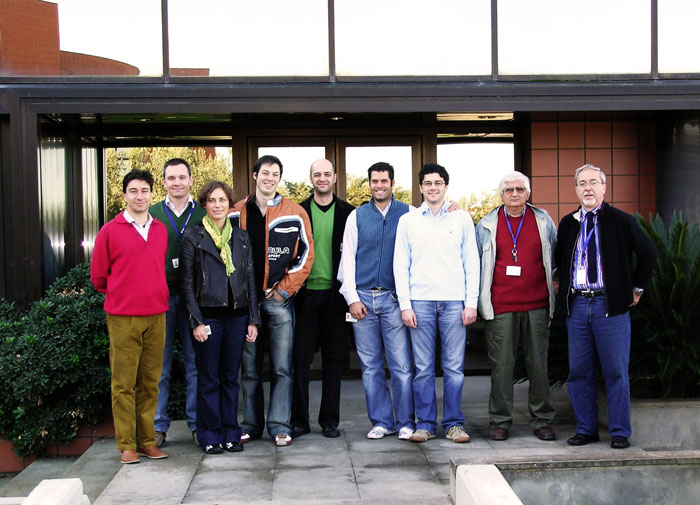 Tor Vergata GeoInformation PhD students and alumni at ESRIN, with ESA staff Luigi Fusco (right) and Francesco Sarti (left)